North Rosedale Walking Tour, Grey Cup Edition
Posted by Kim on May 31, 2012 in Events | 0 comments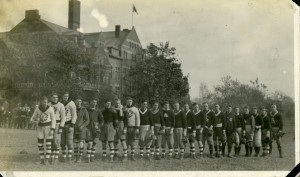 At 1:30 p.m. on Saturday June 2, 2012, I will be leading a special Grey Cup 100th Anniversary Edition of the free Heritage Toronto "Hidden Treasures in North Rosedale" walking tour.
In honour of this year's 100th anniversary of the Grey Cup, special guest Michael Januska, author of the forthcoming history book Grey Cup Century (Dundurn) will address the group about the 1st Grey Cup game, played in 1909 between teams from the University of Toronto and the Parkdale Canoe Club at Rosedale Field, now Rosedale Park, pictured here adorned by a football team from St. Andrew's College school, which bordered the park back in the day.
For more fun, historical facts about this site and others on the tour, join my co-leader Ed Freeman and me at 1:30 pm on Saturday June 2, at the southeast corner of Beaumont Road and Glen Road in North Rosedale.