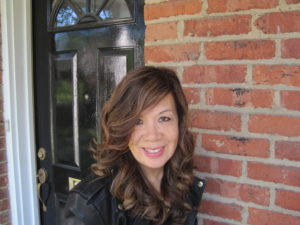 Kim Moritsugu was born and raised in Toronto. She holds Bachelor of Arts and Master of Business Administration degrees from the University of Toronto, and worked for several years in a corporate setting before becoming a fulltime fiction writer.
Kim is the author of six novels so far: the romantic comedy Looks Perfect (shortlisted for the Toronto Book Award), the domestic comedy Old Flames, the literary mystery The Glenwood Treasure (shortlisted for the Arthur Ellis Best Crime Novel Award), the domestic novel The Restoration of Emily (serialized on CBC Radio's Between the Covers), the Rapid Reads short novel And Everything Nice, and The Oakdale Dinner Club. Her seventh novel, The Showrunner, a work of darkly humourous suspense, will be published in June, 2018.
Kim also conducts occasional walking tours of Toronto's North Rosedale neighbourhood for Heritage Toronto, and teaches creative writing through The Humber School for Writers.
Here's an interview Kim did on the topic of Twelve Things People Might Be Surprised to Learn About Me.