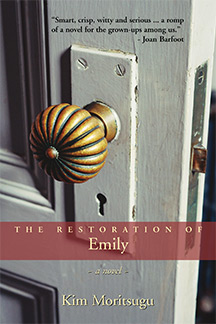 Architect and single mother Emily Harada has structured a well-ordered existence around her work restoring historic houses, and the parenting of her teenage son Jesse. But her carefully laid foundation cracks when she develops an nagging ache in her shoulder, has her architectural integrity questioned, and feels shut out by Jesse's assertions of independence. What she doesn't need right now – or does she? – are the romantic attentions of a former student, an attractive but much younger man. Or for an old acquaintance to resurface with questions about a Bronze Age artifact that Emily might have stolen, once upon a time, in her youth.
Emily, her son, and the two-thousand-year-old artifact all come of age in this funny and moving novel about motherhood, middle age, and one woman's attempt to restore herself to a state of grace that combines the best elements of past and present, old and new.
Serialized on CBC Radio's Between the Covers.
Reviews for The Restoration of Emily
"Emily Harada lives a structured yet unconnected life, a solitary existence which suits her perfectly. Her architecture work focuses on restoring historic houses and her personal life focuses on raising her teenage son, Jesse. Emily's limited social needs are met by her friendship with Sylvia, she has chosen to live contentedly with her singlehood after divorcing Jesse's father Stewart.

Even contented solitude can begin to wear after a while and Emily begins to question her choices, right around the time when Jesse starts to act like a typical teenager and an attractive former student reenters her life.

Kim Moritsugu's fourth novel, The Restoration of Emily, showcases a woman in middle life, who at times appears bewildered by everything around her. Even though Emily has a take no prisoners attitude, calls a spade a spade and has at times had difficulty relating to customers and colleagues, she faces the next phase of her life a bit off-centre.

As Jesse becomes a true teenager, distant and unwilling to talk to "Em," her walls appear to falter. As much as Emily is written as a loner, she still counts on her relationship with her son. Now that he is moving on without her, Moritsugu seems to suggest that it is time for Emily to also grow up.

By nature and preference a loner, Emily moves through life holding others at arms-length. Her sharp tongue is a weapon and she uses it to full advantage. After a lunch party her colleague Danny asks her "What happened to you back there? Demonic possession?" In her first meeting with a new client, Emily has her anti-authority radar on full blast: "We chat briefly about that house and owner, and Stewart gives me no immediate reason to get my back up…but my first impression is that the design of his eyeglasses is too trendy, his dress shirt too white, his jacket lapels too sharply cut, his Italian leather shoes too shiny."

Moritsugu has created a very strong voice for Emily, whose cutting view of the world ably flows out of Moritsugu's pen: "This is one of the many things I value Sylvia for: her ability to provide me with timely reminders about how pointless couplehood can be." Now facing this new phase of life, one as a mother of an almost grown-up son, Emily must follow her own star and determine what is truly important to her. Emily's restoration, in the autumn of her life, is an enjoyable one when handled with Moritsugu's consummate skill.

Kim Moritsugu is the author of three previous novels: Looks Perfect (shortlisted for the Toronto Book Award), Old Flames, and The Glenwood Treasure (shortlisted for the Arthur Ellis Best Crime Novel Award). Moritsugu teaches creative writing at The Humber School for Writers in Toronto, Ontario."
 – Reviewed by Janelle Martin, Gather.com
"Kim Moritsugu's The Restoration of Emily is a very funny, sometimes suspenseful novel for grown-ups. Women of a certain age with adolescent sons will find it particularly appealing. So will those who have had the delightful experience of being attracted to a younger man and having that attraction returned.

Emily Harada is a young 50, an architect specializing in restoring vintage Toronto houses. She has a 14-year-old son, Jesse, who's mad about basketball and plagued by celiac disease, which means that he can't consume anything with gluten, from wheat bread to beer. Emily also has an ex-husband in New York, disagreeable colleagues and clients, and a mountain of authority issues that she has yet to resolve.

To put the elements of the story down like that makes it sound as if it were written to order for a particular audience that just happens to form a huge segment of the book-buying public. But Moritsugu writes with dash and irony. Her dialogue sounds right, and her nasty comments about the fools whom Emily does not suffer lightly are right on the mark. She also carefully but nearly invisibly sets out the signposts of her story, so that each surprise, the reader realizes after the initial shock, is really only the consequence of something set in motion earlier. Obviously the skill she exhibited in her last novel, The Glenwood Treasure, has come in handy here.

The story ends with Emily finally overcoming problems that have plagued her for years – the difficulties of working with others, the struggle to maintain integrity, the need for a woman to make her own life. Jesse, too, is on his way to becoming a competent person. That sounds a bit simplistic, but just as Emily is an expert at finding the soul of an old house in her restorations, Moritsugu is a pro when it comes to telling a story in a fresh and engaging way. I stayed up late to finish it, in fact, even though I was pretty sure it would end the way it did."
 – Reviewed by Mary Soderstrom for Quill and Quire Magazine
"Smart, crisp, witty and serious, The Restoration of Emily is a romp of a novel for the grown-ups among us."
 – Joan Barfoot, author of Lucky
"With much grace and tremendous wit, Kim Moritsugu's "The Restoration of Emily," moves the reader skilfully through the fractured but colliding time between youth and middle age. Emily is masterfully drawn and this is a delightful book."
 – Michelle Berry, author of Blind Crescent
"Read the book. More Mother Hen than chick lit, too urban for the beach, it's a fun, light and adept piece of writing."
 – The Globe and Mail
"Emily Harada spends her days restoring old Toronto homes and her evenings being a single mom to her 14-year-old son, Jesse. Her life, which she'd believed to be built on a solid foundation, starts to crumble when both her work and her authority as a parent are questioned. Funny, wise and sharp, this is a character all of us can see a little bit of ourselves in."
 – Chatelaine.com