The Showrunner, a novel by Kim Moritsugu, will be published in June 2018.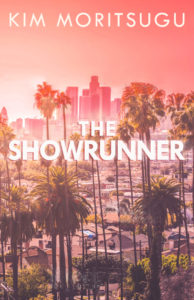 The Showrunner is a work of suspense fiction that puts a modern spin on the theme of female ambition explored in the classic film All About Eve. Set in contemporary Los Angeles, the novel presents a darkly humourous, Hollywood-noir story about three strong-willed women: the two co-creators of a hit TV show locked in a battle to destroy each other, and the actress who comes between them.
Rising-star showrunner Stacey McCreedy has one goal: to leave behind her nerd-girl origins and become a power player — like Ann Dalloni, her former mentor and current producing partner. Ann, meanwhile, is feeling her age and losing her mind. But she'll be damned if she cedes control of their hit primetime TV show to Stacey.
After Ann hires Jenna, a young actress hoping to restart her stalled career, the relationship between Ann and Stacey deteriorates into a blood feud. Soon, Jenna must choose whom to support and whom to betray to achieve her own ends. And Stacey will find out if she possesses the killer instinct that's needed to stay on top.
"The Showrunner has all the drama of All About Eve and the attention to detail of The Devil Wears Prada. Moritsugu nails the California sun-drenched anorexic ethos. She rivals Nathanael West's fabulous descriptions of Hollywood where the hopefuls become twisted by their own ambitions."
– Catherine Gildiner, bestselling author of Too Close to the Falls and Coming Ashore
Currently available for pre-order at Amazon.ca , Amazon.com , and Kobo. Available from your favorite book store in June 2018.