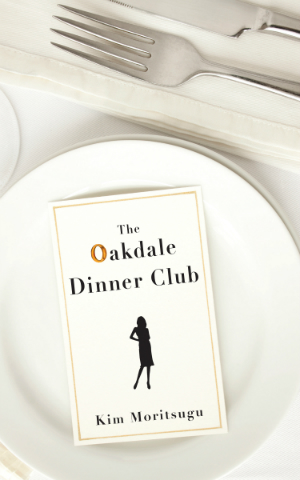 The Oakdale Dinner Club
After affluent suburban mom Mary Ann's husband cheats on her, she decides to have her own extramarital affair. She starts up a neighbourhood dinner club as a cover, earmarks three men as potential lovers, and invites them to join. Along for the ride is her best friend Alice, a university lecturer who has recently returned with her young daughter to Oakdale, the leafy bedroom community where the two women grew up and briefly shared a telepathic past.
Over good food and wine, new friendships develop, new dreams simmer, Mary Ann pursues her affair candidates, and Alice opens her heart and mind to ways out of her single working mother social rut. Appetizing fare for readers who like their fiction sharp and witty with a strong dash of spice, The Oakdale Dinner Club is a suburban comedy of manners that proves it's never too late to start over.
Order from your favorite independent book store or online from Chapters Indigo, amazon.ca, amazon.com, or amazon.co.uk .
"Witty, smart, sarcastic, The Oakdale Dinner Club is a compelling read." – Eva Stachniak, author of The Winter Palace and Empress of the Night.
"You know when you're reading a book and it's so delicious that you can't decide whether to savour or devour it? That's my current dilemma with Kim Moritsugu's The Oakdale Dinner Club. It's like a smart, sarcastic soap opera (Gossip Girl for grownups)." — Robin Spano, author of the Clare Vengel Undercover Novels.
"I had no idea that reading could be so much fun! This novel is a delicious romp – social satire blended nicely with food and sex, a wonderfully wicked combo. – Isabel Huggan, author of Belonging.
Reviews:
Mary Ann MacAllister, now Mrs. Gray, and Alice Maeda, once connected by an ephemeral telepathic link, have followed quite different life paths, both in their way equally unsatisfactory; Alice chose a sequence of lovers but no husband and as a consequence she finds herself struggling with motherhood alone, while Mary Ann opted to become a very proper housewife, consigning herself to a flawed marriage to a wealthy philanderer. Deciding that what is good for the gander is good for the goose, Mary Ann arranges a dinner party to which she invites the men she believes might make good lovers, with Alice as a bemused observer. The consequences of the dinner will transform both their lives, as well as the other guests at the party. Under the author's deft pen, her small community comes to life; her plot weaves back and forth through time with skill, and while the narrative purpose of the paranormal element of the plot seems obscure, Moritsugu's prose is so deft and her characters so entrancing this scarcely matters. Readers familiar with the author's previous novels (The Glenwood Treasure) will find this equally skillful. – Publishers Weekly
"The Oakdale Dinner Club is light and entertaining and goes down as smoothly as the free-flowing dinner-party wine. The novel is voyeurism at its best, allowing readers a peek into the lives of the fabulously wealthy and the culture of no-strings-attached affairs." – Quill and Quire
"The Oakdale Dinner Club, Toronto writer Kim Moritsugu's clever sixth novel, is sheer entertainment from beginning to end. Her likable characters, restless in a 21st-century way, not to mention Mary Ann's nutty schemes, have the reader cheering them on. Indeed, their new pursuits could be worthy of a sequel." – The Waterloo Record
"It was like visiting friends and eavesdropping on neighbours. A light, fluffy meringue of a book!" – Reader review, The National Post
"A delectable parody about two women starting over through food, relationships and sex." – Reader review, The National Post
"A light-hearted suburban indulgence about friends, family, fidelity and food." – Reader review, The National Post
"The Oakdale Dinner Club is the catalyst for following dreams and second chances. Great book for the beach." – Reader review, The National Post