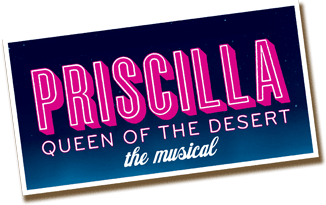 Last night I went to see a preview performance of the Broadway-bound production of Priscilla, Queen of the Desert, at the Princess of Wales Theatre in Toronto.
The show is part circus, part surreal, very gay, madly colourful, inventively staged, so far over-the-top it flies around dementedly somewhere in the sky. It's high-energy, exuberant, features an infectiously performed disco music score, and is filled with ridiculous jokes that are either raunchy, corny or both. Including, I regret to say, a too-long, offensively written scene, taken from the original movie, that features a gibberish-talking female Asian 'dancer' who has a way with ping pong balls.
That misstep and some of the more vulgar/tasteless jokes aside, strong performances anchor the show – particularly from Tony Sheldon, who is graceful, sympathetic and poignant as Bernadette, and from Nick Adams, a true dancer and able singer who tempers his Felicia/Adam's character's obnoxiousness with a goofy grin, and has a jaw-droppingly awesome physique that is constantly on display. I also admired the versatile chorus members, who play drag queens in one scene as convincingly as they portray hetero tough guys in the next. And Luke Mannikus, the eight-year-old actor who appeared as Benjamin at the performance I saw, was adorable.
This is a show worth seeing, if for the archival value alone. And the mind-blowing costumes! And the three singing divas who descend from the heavens! Just go. Or should I say: Go on now, go.