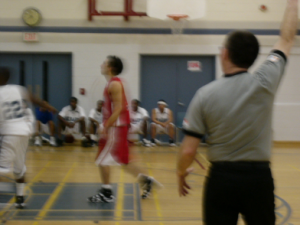 I'm very pleased that my YA story Marcus the Great has just been published in an anthology for the educational market  by McGraw-Hill Ryerson. The anthology has the rather clunky title of iLit: Reality Imagined: Stories of Identity and Change and also includes stories by Jean Little, Richard Scrimger, Sheree Fitch, and several other established and up-and-coming Canadian writers.
Marcus the Great is a coming of age story of sorts, about a mellow biracial basketball player from downtown Toronto who attends the city's Northern Secondary School, likes history class, and starts dating an uptown girl. It was totally inspired by the exposure I got to the fascinating Toronto high school basketball scene when my two sons played ball for Northern. Go Red Knights!
The story will also be available soon as a download for teachers who want to pick and choose from  a selection of stories on offer to put together their own classroom anthologies at ilit.ca. To that end, the ilit site is currently offering up Marcus the Great as a sample work – you can read (but not print) the whole thing, with illustrations! – here.
How much do I love the idea of high school students studying my story?  A lot.